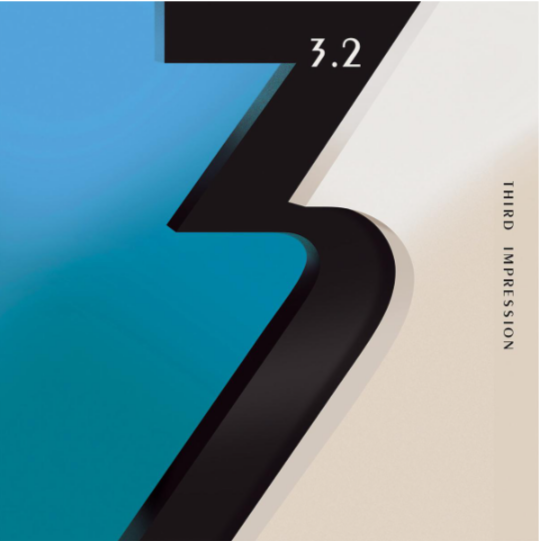 When 3.2's "Third Impression" was completed last year, Robert Berry's feelings were bittersweet. On the one hand, he was excited to share his latest project with the world. On the other, he knew that there was no more Keith Emerson material to draw from and that the 32-year story of their collaboration had reached its final chapter.
He poured his soul into honoring the legacy of what was started with Emerson and Carl Palmer back in 1988, and, if you can, I highly recommend listening to all three albums in succession. While there are tracks that work as standalone singles, the passion and artistic evolution really come alive when consumed as an entire package.
I spoke with Berry this week about the album and how he's managed to stay busy during a pandemic that has kept him off the road for the foreseeable future.
MNOD: We last spoke in 2018 when "The Rules Have Changed" had just been released and you mentioned how writing another chapter in the 3.2 story was still up in the air. Here we are in 2021 and you managed to put together an album that is arguably stronger than the last. How did 'Third Impression' ultimately come about?
Berry: I didn't want to do it initially. Keith was gone and I felt as if there was nothing left to add. My record company came to me and asked about a follow-up, because "The Rules Have Changed" was successful. I only had one song left over from the sessions that Keith and I had worked on. It didn't make it onto the last album, because it was too long. The more thought about it, the more I believed that, if I could write seven more songs that Keith would have liked, then I would have an album worthy of promoting under the '3.2' name. Now, I'm ready to move forward, so 'Third Impression' is the last thing I'll ever release under that name, because there's nothing left to do there. I assume you've heard the album. What do you think of it?
MNOD: I've listened to it a few times through and have really gotten into it. I also was able to find a copy of the first album on vinyl, which is really cool given that there aren't too many around anymore.
Berry: That is really cool. I've had people ask me about copies of the first 3 album on vinyl, because it came out in 1988 and everything switched over to CDs shortly after that.
MNOD: Issues with Keith's estate meant that you had to recreate all of his keyboard parts on "The Rules Have Changed." On the new album, "Never" is the only song that he contributed to, so I was wondering how you got yourself into the mindset of playing what he would have played.
Berry: I began as a keyboard player in one of my old bands called Hush, so constructing keyboard parts is definitely something I'm used to. Back in 1985, I wrote a song called 'Talkin Bout,' which I had when I was in GTR with Steve Howe. I took that song with me when I left the band and it ended up being the lead track on 3's 1988 debut "…To the Power of Three." I tried to give all of the keyboard parts on this album that Emerson DNA, because he was the king. Every time I worked with him was like a piano lesson for me and I've tried to maintain the spirit of his playing throughout this whole process. I've even wondered what the next project I release will sound like, because I don't know if it will necessarily retain that Emerson keyboard sound.
MNOD: Did the time off during the pandemic allow you to dedicate more time to this album or had you already finished some of it before everything shut down?
Berry: I've been fortunate to have my studio open this whole time, so, thankfully, my business has still kept up nicely. I'm open Monday through Friday and I take clients one at a time. Bands will come to me when they're looking for a sound that is uniquely theirs and I will help them realize their vision. I kept everything sanitized and sterile like a hospital, so I was able to keep that income stream coming in. I used 25% of that to finish 'Third Impression.' I also took extra time to improve my drumming skills. I'm also pressing 200 copies of this album on vinyl, which are on sale now at my web site for pre-order. Once they're gone, that's it. I like the idea of having the cover and the artwork, because 3 was a great time in my life and I want to celebrate that.
MNOD: What is your relationship with Carl Palmer these days? Has he given you his blessing on the 3.2 projects?
Berry: He's a busy guy. He's dedicated to celebrating the past with his ELP Legacy band, but he had no problem with me using the name even if he couldn't be involved. Initially, the idea that Keith and I had was to have Simon Phillips play drums, because we wanted some tougher rhythms more like when Cozy Powell played with Keith and Greg Lake.
MNOD: You last toured in 2019, so I'm sure that the excitement to take this new album out on the road is palpable at this point. How confident are you that things will get back to normal sooner rather than later?
Berry: I think you guys in New York were more rattled by the pandemic than we were in California. Our governor shut everything down and then things started to open up a little bit, but now there's a petition to have him removed. For concerts, I think 150-200 people could happen, but 5000 people won't happen yet. It's still going to be hard for people to feel comfortable. For me, I've lived like a singer my whole life. I have a jacket from the 1988 tour with 3 that still has a bottle of Purell in the pocket. I'm not germophobic, but I can't afford to get sick. I can't have a cold. My livelihood depends on everyone staying healthy. Greg Kihn and I do shows as a duo and we have one gig booked, but the 5000 seat venues with a full band are not there yet. It's not about the show right now, it's about the promoters who lost an entire year of revenue and can't pay the stagehands and everyone else. The touring industry took a hit and it's going to take some time before staging large events can be financially viable again. Streaming shows isn't something that appeals to me, because most of them don't really sound great. There's a band called Tempest that I've worked on 13 albums with and they did a live show from my studio, but I have a Neve console and the best technology to make it sound good. They even put out a 'Live at Sound Check' album, because they liked it so much. Another thing is that the Facebook Live and Zoom thing is already so crowded with other people doing it that I didn't think they needed anything more. There's already plenty to look at.
MNOD: Now that you've had some time to digest 'Third Impression,' is there a particular piece that stands out as your favorite?
Berry: I'm so close to it that I can't really pick a favorite. If you're a true artist, you don't really worry about what the listener will like, because what they really want is for you to do your art. 'A Bond of Union' is a song that I wrote about my own feelings of losing my mom, but I tried to make it so that the listener can also project their own feelings onto it. I had great parents and I hope that I'm also a great parent, but, then again, my son wants to get into rock 'n' roll and what kind of parent would let their kid do that? "Never" is the last song that Keith and I wrote together, so that one is pretty special also. It was a weird feeling being finished with this album, because there's no more music to be released under the 3.2 name. This material is time stamped and now it's time to let it go.
MNOD: Earlier, you mentioned not knowing where your next project will take you. Do you have anything currently in the works?
Berry: I've been working on some songs, but the feeling has to be there for me. I've quit a couple of bands, because I just didn't feel like it was working. For anything I get involved with, I have to make sure that everything is really happening. I've also created a T-shirt that is available on my web site that says 'Music is life, Life is music' and in between is the 3.2 logo, so everyone should check it out.
3.2's "Third Impression" is available now wherever music is disseminated.
Visit www.robertberry.com for details.