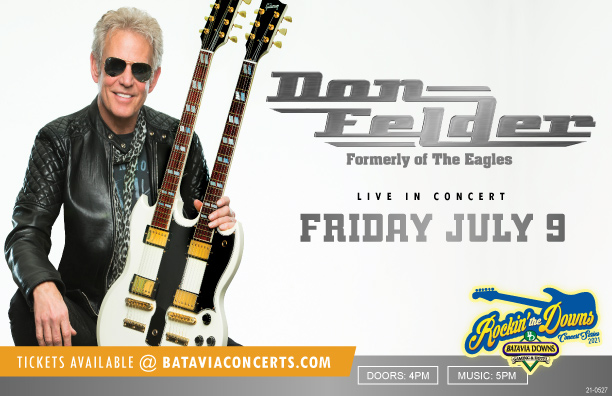 The Eagles mean different things to different people.
To some, they signify the cream of the Laurel Canyon crop with their dueling guitars and harmonized country rock sheen that served as a commercial extension of what Gram Parsons started doing with The Flying Burrito Brothers back in 1969. To others, they've come to represent a brand of sterile corporate rock that lacked the punch many mid-'70s critics wanted and ultimately found elsewhere.
If you're like me and you've digested Allison Ellwood's 2013 documentary "History of the Eagles" on multiple occasions, you know that the truth lies somewhere in the middle. Ellwood paired archival footage with up-to-date interviews to tell an exhaustive story of how they could be both beloved and abhorred en route to selling more than 200 Million albums worldwide.
When guitarist Don Felder joined the band in 1974, he brought an instant rock credibility that began with "On the Border" and soared to even greater heights when Joe Walsh signed on the following year. Despite how popular those songs were and continue to be, Felder and Walsh still feel underrated as a duo given how little control they had over the band's direction, but Felder's post-Eagles career as a live act is all the evidence you need to fully appreciate his contributions.
He rolled into Batavia Downs last Friday with a band that proved itself more than capable of tackling the vocal harmonies that can make or break the material for many people. The run of "Already Gone," "One of These Nights," and a cover of Stevie Ray Vaughan's "Pride and Joy" was a breezy way to kick things off, but the set's middle section was where things really got cooking.
Felder and Nashville session whiz David Myhre traded blazing solos on "Victim of Love" and "Those Shoes" while the collective vocal on "Seven Bridges Road" rivaled anything heard on the original Eagles version. Even if you hate the Eagles as much as The Dude, you can't deny how stunning that five-part harmony is in a live setting.
What also stood out was how Felder's delicate singing style placed ballads such as "Tequila Sunrise" and "Peaceful Easy Feeling" in a different context, because, despite what Glenn Frey thought, he could have sung lead at least once per album without affecting the band's bottom line.
But his calling is the guitar, of course, and that's exactly what people paid to see on this night. Every note of "Hotel California" was executed flawlessly on his signature Gibson EDS-1275 and not even the tenderness of "Best of My Love" to close out the evening could bring the crowd down from that high.
His overall performance brought to mind Spin's list of the 100 greatest guitarists, because the fact that they put a DJ who doesn't even touch the instrument at 100 and left Felder off the list entirely illustrates how the journalistic douchebaggery of the mainstream music press knows no bounds.