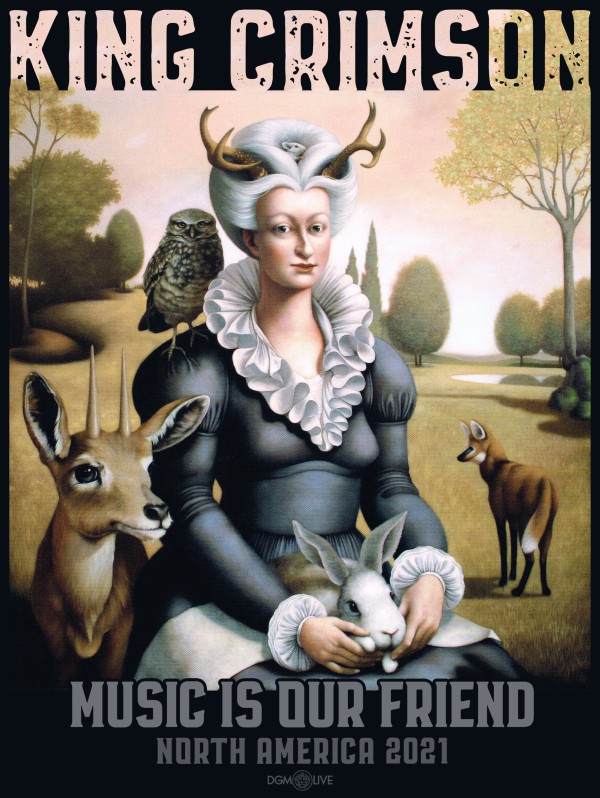 Experiencing King Crimson live in 2021 is the musical equivalent of traveling to Mexico City to see the cloak enshrined in the Basilica of Our Lady of Guadalupe. Both are sights to behold and both appear to defy articulation regardless of how hard you try to make someone who wasn't there feel exactly the way you were feeling in that moment.
Had any other band headlined the Artpark Amphitheatre last Friday night, the lack of stage banter might've factored into the show's overall vibe, but the intensity and level of musicianship on display meant that nothing other than the performance was required. What Robert Fripp, Jakko Jakszyk, Tony Levin, Pat Mastelotto, Jeremy Stacey, Gavin Harrison, and Mel Collins did was serve a higher truth while simultaneously raising the bar for every other act that plans on rolling through Western New York this year.
The Lewiston faithful were treated to sterling renditions of "Larks' Tongues in Aspic, Part One," "Red," and "Epitaph" during the set's early section and then spoiled with a closing gamut of "The Court of the Crimson King," "Indiscipline," "Starless," and "21st Century Schizoid Man" that left me pondering how I could possibly capture such beauty for the reader.
It's not often that I'm confronted with a show whose intangible qualities can't be properly expressed on the page, but, when it happens, it's best to not waste time trying to define the indefinable.
If you were there, you already know, and, if you weren't, well, you should have been.
*The Zappa Band opened the show, but the 10 minutes or so that I saw wasn't enough to get the full effect of their set.