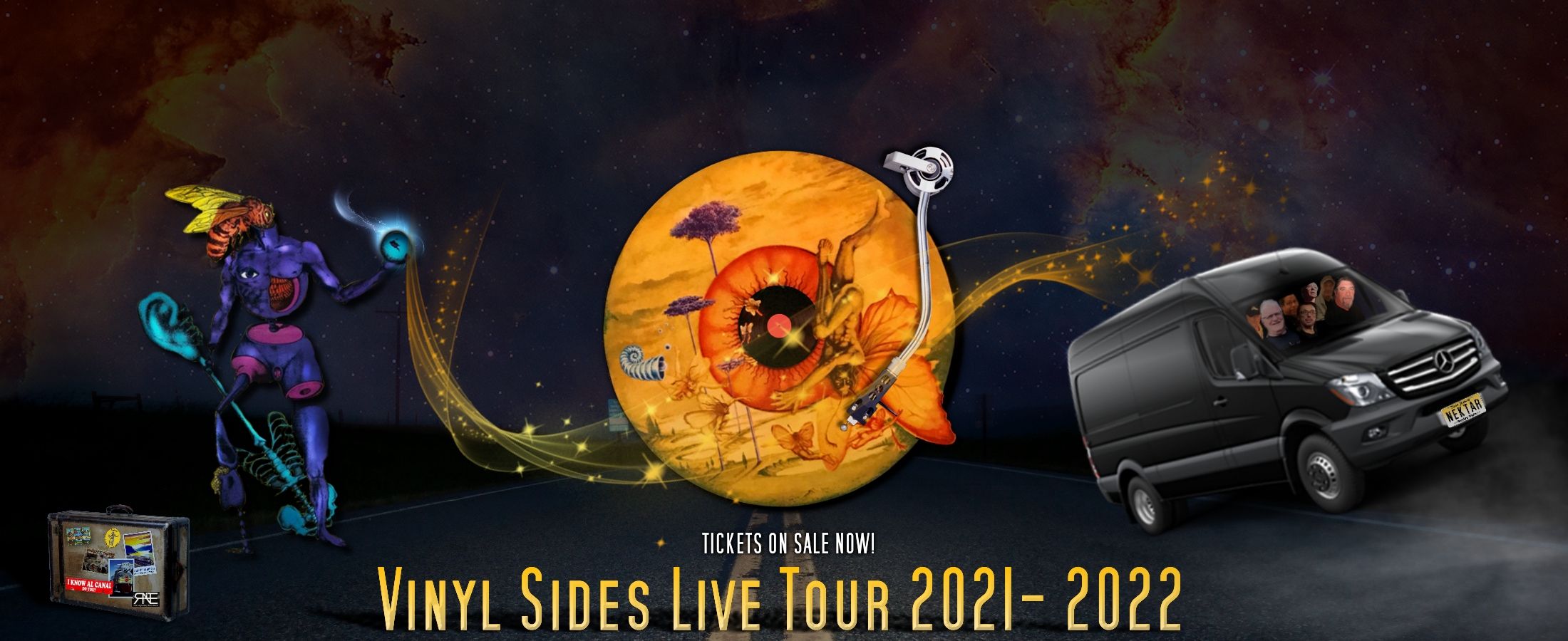 When it comes to the '70s progressive rock scene, Nektar was always a band that inexplicably flew under the radar in America despite a string of albums from 1971-1977 that deserve to be mentioned among the greats of the genre. The playing was fiery, the sound was ambitious, and Mick Brockett's visual presentation deepened the drama just as it had done for Pink Floyd back in 1968.
If you were unable to experience the original band in all its phantasmagorical glory, the current iteration is returning to the Hamburg Palace Theatre on Sept. 24 with a show that is sure to deliver on every level. I spoke with bassist Derek "Mo" Moore this week about the history of the band and why he's as passionate about 2020's "The Other Side" as he is about anything the band has ever done.
MNOD: It felt like the band had just gotten started again when the pandemic hit. What has the last year-and-a-half been like for you?
Mo: We haven't been out since March 8, 2020. It had been going really well until the tour stopped, because we had three hours of music prepared and were playing a different show every night. This time, we have four-and-a-half hours of music to choose from, so the Hamburg show on the 24th will have a different setlist than the last time we played there. We're starting up again on Sept. 1 with 17 dates through Oct. 7. We've been rehearsing quite a bit and I'm really looking forward to the show. The original guitarist died in 2016 and the band was essentially done at that point. Ron (Howden) called me later on to say that he was putting another band together and asked if I wanted to join. We weren't even thinking about going on the road yet, but it all fit together and I was hooked again. I'm in the band permanently now and it's a great band with an interesting sound. We Zoom with each other every week to plan things out, so this new age of technology and communication has been amazing.
MNOD: How did the band change after Roye Albrighton died?
Mo: It changed a bit, but the new band really fits well together. We have two basses now, as well. A lot of fans have followed us for 50 years and they'll travel to five or six different shows on the same tour, so we strive to give them something different every night. We never had too many influences when we first started out, because we were open to new stuff. We wanted to experiment and the fanbase we had in Germany appreciated that. We put an album out in 2020 called 'The Other Side,' which has a very 1978 feel to it. I had just retired in 2018, so the new band came along at the right time for me. I'm very much into it. We're hoping to hit Europe next year as well as Japan and South America.
MNOD: "Remember the Future" was the original band's highest charting album in America. Which album do you consider to be the band's finest effort?
Mo: I love them all for different reasons. They all have different nuances and things to like about them. It takes time to follow our music, because we never wanted to make the same album twice. I think of 'The Other Side' as a follow-up to 1975's 'Recycled.' I like using all live tracks, because they have a better feel to them. When things are pieced together, they sound pieced together, and I don't like that. The 'Remember the Future' tour of the States is one of my favorites, though, because the shows were sold out and the crowds were passionate.
MNOD: Was the bass always what you wanted to play or did you come to it later?
Mo: I started out playing the piano and then switched to bass. I'm into melodic bass playing and that's why Randy Dembo and I play really well together.
MNOD: What are some differences you've noticed between German and American audiences?
Mo: They're actually very similar. When we first came here, there was a far bigger scene here than there and we needed to grow as a band. We have our forever fans from both places that we refer to as Nektarines and they'll follow us all over. The visual component of our show tells the story of the music and I've heard that the light show has even helped those who speak different languages to understand the music better.
MNOD: When you look out into the crowd today, do you see younger generations that have become fans of the band?
Mo: I'm surprised a lot by how many young people we have at the shows. We were in New Jersey once and there was a 16-year-old at the merch table with his dad. His dad's arms were full of CDs and other stuff that they had bought. Someone said it was nice that he had brought his son to the show and he replied, 'He brought me,' which is great to see.
MNOD: How has your approach to traveling changed compared to the band's early days?
Mo: It's OK. It's not something I relish, but it's something we have to do. We ride in one van and then we have another van for the equipment.
MNOD: How did you establish a relationship with the Hamburg Palace Theatre?
Mo: Well, we were looking for gigs to play last year and Hamburg ended up being the perfect stop on the way to Toronto. They're great guys there and couldn't be nicer. They were interested in presenting the band and did a phenomenal billboard for the 2020 show. They really know how to do it.
Nektar plays the Hamburg Palace Theatre on Sept. 24. See http://www.nektarsmusic.com or http://www.hamburgpalace.com for details.